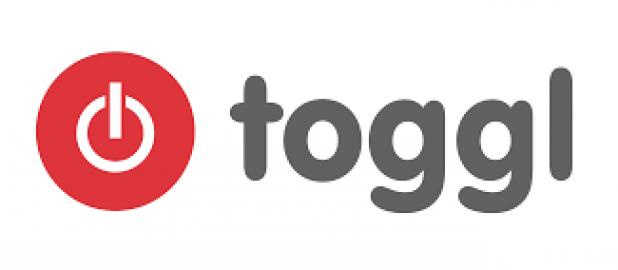 Time Tracking Done Right
As a freelance web developer I need to keep very detailed logs of what I work on. Sometimes down to the minute. My clients don't want to pay for any more time than they have to. And I don't blame them.
When I first started out freelancing, I kept track in a notebook. This was very unreliable. I never seemed to remember where I put the notebook. When I did have it, it never seemed like I remembered to put all of my time in. Eventually I ditched the notebook.
Next attempt was using a built in note taking application, Tomboy Notes (https://wiki.gnome.org/Apps/Tomboy). And eventually migrating to Gnote (https://wiki.gnome.org/Apps/Gnote). Same issue as the notebook, but luckily I never lost it. It was always there, but just hard to remember to open it, type in the client and project that I was working. Also had to note the start and end times. All of the calculating of time was manul. Better, but not ideal.
Then I thought I had hit the jackpot back in 2012 when I read about a Gnome project called Hamster (https://projecthamster.wordpress.com/). This tool was (is?) great!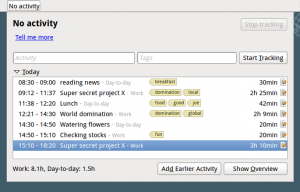 Yes, I still had to remember to open it, but it did all of the calculating for me. It marked the start and end of the time period. It has fields where you can set the activity and link it to a specific client. It allows for adding a tag(s) to each entry. You can also add a description to it. You could even go back and edit times/dates or any of the above fields after the fact.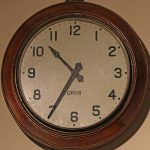 This definitely saved me time. And when you are tracking time, time is money!
Over time though, there were small quirks which started to get to me. It was very hard to see a good view of what I did for just one client on a given day/week/month. I could see each one, but not with the resolution that I was looking for.
I also had issues with the fact that I didn't have a global view of the time that I had spent. If I was out of the office, I couldn't check to see how much time I had spent for a particular client. Plus, even though I was backing the data up, if my Linux machine crashed it would be out of commission until I could restore it. I made everything work, because that was all I could find.
About a month ago, I read an article about a newer startup company and their tools. Toggl (https://toggl.com/) builds tools for tracking time. What I liked best about Toggl was the fact that it is web based. But it isn't just web based. They have Apps for iOS, Android, Windows, Mac and Linux. That means that no matter what platform I am working on, and I do use all of those, I can track my time accurately!! Win for me, win for my clients.
Toggl has different pricing structures, and since pricing changes, I'll just reference the different plans. They have a free plan. This allows a team of up to 5 users to track their time, gives you "basic" reporting, allows for unlimited projects, and all of the desktop and mobile applications can be used.
Then they have their Pro level. This includes all of the above, plus gives you unlimited team size, billable rates, time estimates, sub-projects, and sharing of reports with others.
I'll jump to their Business level before I talk about the Pro-Plus level. The Business level includes all of the Pro plus tracking reminders, scheduled reports, locking time sheets, and priority support.
Then there is the Pro-Plus level. This includes everything from the Pro level, plus ONE of the features of the Business level.
Right now I am just using the free version, but I can see that I would jump to the Pro version in the future. I like the idea of being able to use the data to provide estimates.
One of the best features that I like about Toggl is how their reporting works. To me, this was always a pain with Hamster. But it is simple and easy to do, fron any device with Toggl. I can see exactly what I did for each client, what projects I worked on, how much time I spent, right down to the day.
If you are a freelancer or just need a good way of tracking the time you spend on different activities, give Toggl a try. I don't think you'll be disappointed.